May 1st, 1998 – November 26th, 2012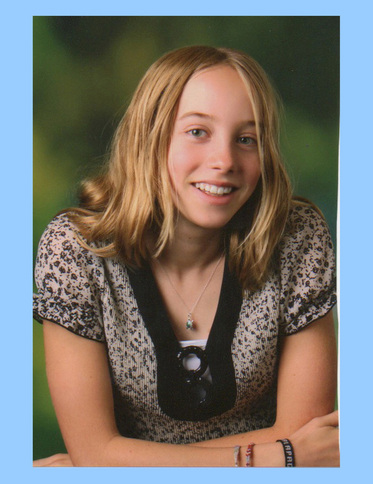 Sonnet About Life
Alive I go to sleep in bed tonight
Alive I wake up with the morning dew
A life is like a warm and lovely light
A life is like a spark so hot and blue
Alive when brown owls sing their haunting songs
Alive when bright sun burns and scorches
A life is place where all kids do belong
Swinging in the breeze on huge front porches
But some days when the rain doth pour thickly
And all around you rule great godly forces
You think that life gallops by too quickly
And then all the days whizz past like racing horses
A life is like an ever-changing stream
And all of streams must end in broken dreams
– Leyla Beban, January 2011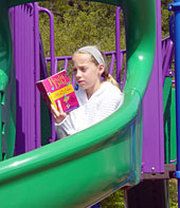 Leyla loved to read from her earliest days. Even when she was months old she would sit in rapt attention as you read her a picture book. As she became more independent she would surround herself in books and spend literally hours looking through them, every now and then popping up to ask for someone to read her a few. Once she began to read she would become totally immersed in the stories to the near total exclusion of all outside activity. She seemed not to hear any sounds outside her own head, sometimes to the frustration of her parents and sister – she couldn't be bothered with anything but her books and the adventures they engendered in her imagination. As she got older she became remarkably adept at multitasking, as long as one of the tasks was reading! She could walk through the house or down the street or make a snack and navigate seemingly through a sixth sense or her lizard brain, the whole time with her nose buried in the pages of the book and her mind in another world or another time. People who didn't know her name or anything about her knew her as the girl who was always reading.
When Leyla wasn't reading she loved to be outside 'exploring', whether it was her neighborhood or a park, outdoors at the beach or open space, or even inside a Home Depot, she soaked up the world with intense curiosity and a sense of adventurousness. The woods around her middle school, Nueva, were a particular favorite of hers and after school, while waiting for her ride home, she would hike through the oak woodlands on the trails and deer paths around campus. She loved to climb trees and her friends at Nueva often recount a story of a time a few of them climbed a tree with her on campus. Most of them weren't regular tree climbers like Leyla and they stayed in the lower few branches while Leyla climbed as high as the branches would support her. The principal came along and admonished them to get out of the tree, and her friends climbed down to be lectured on staying out of the trees. Leyla, however, had managed to get high enough up and separated from the group that she wasn't seen and was spared the lecture, securing for herself a reputation for adventurousness.
Themes of the natural world would appear in much of her writing.
Leyla began writing stories almost as soon as she had learned to write words. She would crank out short adventures involving animals or princes and princesses, but almost always some near-epic adventure. Often her sister was a key character, and, occasionally, even her parents would make an appearance. She also liked to write rhymes and short poems, and playing with words seemed to be a favorite thing of hers. She tried on a couple occasions to make up her own language, and for a while would speak backwards, especially when she was mad and didn't want you to know what she was saying!
Around 5th grade she became inspired by a large flock of pigeons she saw in a drugstore parking lot to start writing what she felt would be her first book, entitled 'Polyester Pigeons'. It was a sprawling adventure involving polyester pigeons and space travel, and she would work on it periodically in fits of inspiration. Eventually she abandoned it and began to write more introspective pieces and poems.
The work Leyla was most proud of was called Deep Sea Walkers. It is the story of what happens to people who are interred at sea, and reflects her profound fascination with the sea life found in the darkest depths of the oceans – the anglerfish, shrimps, and, especially, jellyfish of all sorts. It started out as a 1000 word 'flash fiction' piece for a middle school creative writing class, and she was so inspired by it that she carried on with it in her next creative writing class, hoping to eventually turn it into her first published piece. She was mentored by her instructors at Nueva, and was grateful to them for their support and encouragement, and for the space and guidance they gave her to explore and describe this world and her feelings about it. This piece had such a profound impact on her that she described the process of writing it as changing how she felt about life after death.
At her middle school, Nueva, every 8th grader has a few minutes to speak in front of a packed auditorium of friends and family at graduation. Most kids speak about their experience, thank teachers, friends, and family, and make an inside joke or two that gets the students tittering and the audience wondering. Leyla took the opportunity to write. She wrote a vignette about a hike on one of the trails on the Nueva campus that she loved so much, and connected her journey through middle school to that hike in the woods. She described the trail and hike vividly, and many people commented after the ceremony, and later after her death, how her speech stood out for them for its beauty and for her poise in delivering it. It definitely made her parents proud.
Leyla was very fortunate to be a part of two wonderful and supportive school communities.
From Kindergarten through 5th grade, Leyla attended Adelante Spanish Immersion School in Redwood City, CA. Adelante is a wonderful community that brings together families from disparate backgrounds united in their support of bilingualism.
From 6th through 8th grade, Leyla attended Nueva Middle School in Hillsborough, CA. Nueva was a transformative experience for her, where she learned that there was a world outside her books that could be kinda interesting too, and where she made many good friends, had wonderful mentors, and life changing experiences.
From August 2012 until her death, Leyla attended Woodside High School in Redwood City, CA, where she was reunited with many of her friends from Adelante and summer programs from Redwood City.
The video above is from Leyla's 8th grade graduation ceremony.  (By the way, the last name is pronounced 'bee-ben' not 'bay-ben'.)  The speech was given in June of 2012 at Nueva Middle School in Hillsborough, CA.  She reads a vignette she wrote about a hike on one of the trails on the Nueva campus, as her summary of her time at Nueva and her feelings about moving on.
Leyla passed away on November 26th, 2012. She was riding her bike to school when she was struck and killed by pickup truck. The doctors say she died instantly without suffering. Her family is grateful for the love and support of the community, from her friends, classmates, and their families, to the strangers who stopped to help, and to all those who left notes, flowers, gifts, and remembrances.
Leyla is profoundly missed by the many people that loved her dearly, most especially by her parents and sister. It is their hope that others who share Leyla's passion for the written word and the world of imagination will be inspired by our foundation to follow their dreams.